Being seduced by Pinot Noir
has never been so irresistible!
Pinot Noir Shootout Results Available March 25, 2008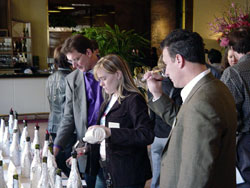 On Sunday, March 2, 2008 consumers, press and trade will gather for the remarkable "Passionate about Pinot Noir Summit." Held at Fort Mason in San Francisco, an extraordinary array of palates will gather to assess "the best of the best," from the 6th Annual Pinot Noir Shootout finals held on January 16, 2008.

The 6th Annual Pinot Noir Shootout included Pinots from around the globe, including France, Italy, Australia (including Tasmania), and New Zealand. Stateside, California and Oregon dominate the wine submissions; however, Pinots have also come in from Michigan, Pennsylvania, and New York.
Unique aspects of the PN Shootout:
The most comprehensive and focused tasting of Pinot Noir in the US, utilizing an incredibly diverse panel of experts.
Just 32 wines are tasted by the experts per day (four flights of eight wines each), allowing the judges to be completely immersed, focused and fair to the wines.
There's no palate fatigue as a factor.
The wines are tasted completely blind without reference to appellation, vintage or price.
Ellen Landis tasting as
part of the PNS panel
The Summit will carry the theme through as above allowing the attendees to taste the wines blind and compare their findings to the panel's at The Final Showdown.
The Pinot Noir Shootout is the only competition in which the judges' conclusions are put to the test by an unbiased panel of wine lovers.
The Pinot Noir Shootout continues to explore and assess the reactions and preferences of women versus men, in regards to Pinot Noir. This year, descriptors and scores of the female and male panelists will be denoted, as well as the reactions of the Pinot Noir Summit attendees, in an attempt to discover whether women and men prefer different wine styles.
Details:
Who:
Affairs of the Vine, International Wine Review, Wineworks
What:
The Pinot Noir Summit
When:
Sunday, March 2, 2008 ~ Noon to 7:30 p.m.
Where:
Golden Gate Room, Fort Mason, San Francisco CA
Features:
40 top-rated Pinot Noirs in a blind tasting,
Enjoy Pinot Noir Workshops conducted by expert winemakers, viticulturists and wine educators
Pinot Noir Shootout Ceremony
Reception featuring top Pinot Noir winemakers showcasing their wines with specially paired hors d'oeuvre
Meet and taste with Top Pinot Noir Winemakers
We do not disclose the wines that will be tasted in the blind tasting...that would ruin the fun and the challenge.
Here is a partial list of the wineries that will join us for the Wine Reception. New wineries being added daily.
Fatal error
: Uncaught Error: Call to undefined function mysql_connect() in /home/affair6/public_html/pn_summit_2008.php:188 Stack trace: #0 {main} thrown in
/home/affair6/public_html/pn_summit_2008.php
on line
188