Really, you don't even have to take a sip. That's how intoxicating the sweet aroma of fermenting grapes is in the diminishing heat of Indian summer. The crush is messy. Frenzied. But utterly magnetic.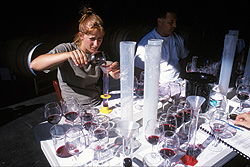 A visitor to Sebastiani Vineyards and Winery barrel room in Sonoma gets a hands-on lesson in the craft of wine blending. (Photo by Clay McLachlan)
Curious wine lovers are learning that, with a little initiative or a lot of connections, they can work their way closer to the frantic race to bring in the grapes. Whether it's a gallery view of the crush pad, a barrel-room lesson in wine blending basics in places such as Sebastiani, or a chance to experience the whole heady harvest hands-on, from picking to pressing to bottling, here are some of our favorites.
Affairs of the Vine Wine-Country Boot Camp: What started out as a trade seminar for wine business insiders has gone public, with platoons of willing recruits paying $375 a head for a hands-on crush adventure, ranging from picking to pressing to learning the basics of winemaking. When it comes to meals it's strictly officer's club dining, with lunch in the vineyards and evening food and wine pairings. For more info, call 707-874-1975 or go online at affairsofthevine.com.
St. Supery Vineyards Harvest Ad-venture: A one-day crash course in the crush at St. Supery's 50-acre Rutherford vineyard. Students pick grapes and take them to the crush station, where they're pressed and de-stemmed. There are "free run" juice tastings in the fermentation room, a Smell-a-vision interactive exhibit that emits aromas at the touch of a lever, a wine-blending seminar and food and wine pairings. Sept. 26 and Oct. 10. $250. 800-942-0810.
Amphora Winery for Women Only: Winemaker Rick Hutchinson revives Greek mythology, which holds that only women should touch grapes during harvest. Every weekend in September and October — when grapes are available — women are invited to jump in the bins, crush and make wines. 3901 Wine Creek Road, Healdsburg. 707-431-7767.
Sterling Vineyards Self-Guided Tours: Sterling offers one of the better views of the crush in progress with a harvest and fermentation overlook. A catwalk extends over a hub of activity below. Visitors can explore the barrel rooms and cellars, and wander to the back over the crush pit. The winemaker himself gives narrations through plasma screens at different stations. $10 includes tasting and aerial tram to the winery's 400-foot high perch. 1111 Dunaweal Lane, Calistoga. 707-942-3300 or www.sterlingvineyards.com.
— Meg McConahey