The Wine Evangelist
July, 2009
What the Heck Do Footie Pajamas Have to Do with Pinot Noir?
When do you wear footie pajamas?
When it's cold.
When do you wear footie pajamas in July?
When you live on the Extreme Sonoma Coast where some of the best Pinot Noir in California (and perhaps the world) are grown.
The Wall Street Journal Recommends


WINE BOOT CAMP® Remember when Mom and Dad used to ship you off to summer camp every year?

Why should kids have all the fun? Go back to camp...Wine Boot Camp, that is.

We can accept a few more recruits for each of the two Wine Boot Camps listed below.

Enlist in Wine Boot Camp 2009 now.



Napa Valley Wine Boot Camp, August 15th
Vineyard mission is at Ehlers Estate
Cellar mission is at O'Brien Estate


Sonoma County Wine Boot Camp, September 12th
Vineyard mission is at Peterson Winery
Cellar mission is at Ramey Wine Cellars


Enlistment is $495 per person + tax for WINE BOOT Camp® and includes all seminars and educational materials, lunch in the vineyard, dinner paired with appropriate wines, extensive wine tasting, a bottle of wine created by the recruit, transportation to all food and wine events, and an "I Survived Wine Boot Camp®" T-shirt.

Enlist today!

Become a fan of Wine Boot Camp® on Facebook


Play Twickets & Win FREE TICKETS to Wine Events
Wine Evangelist is launching a new game on Twitter. It's easy and fun. This new game is called TWICKETS — and it could be your ticket to a FREE ticket an outstanding wine adventure.
All you have to do is play Twickets "Answer The Wine Question" Game – Be the first to correctly answer the question that is posed by wineevangelist on Twitter from the clues provided & you will WIN 2 VIP Tickets to the Rhone Rangers Tasting in Santa Monica on August 9th.
Here are the rules:
Clues will be provided on Twitter.
Peeps send tweets to @wineevangelist identifying the winery.
IF you are the first person to answer the question correctly, you will win a FREE TICKETS to this very exciting wine event: 2 VIP Rhone Rangers Tickets
IS YOUR TEAM FEELING OVERWHELMED?
NEED TO RECONNECT WITH CLIENTS?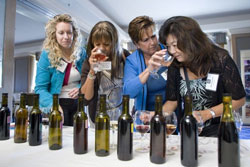 Employee engagement, team building & corporate events in Wine Country or let us bring Wine Country to you. Seeking a unique relationship building activity? Affairs of the Vine educates, engages and entertains your audience! Affairs of the Vine's expert and congenial staff educate without intimidation. Affairs of the Vine is prepared to exceed expectations while assisting you in producing a flawless program.
Affairs of the Vine will create an event to be remembered.
Call Affairs of the Vine at 707-874-1975 to discuss your event or meeting planning needs today. Hands-on in the vineyard or let us bring Wine Country to you.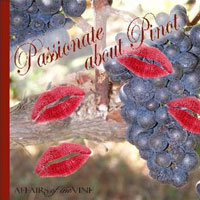 SAVE THE DATE
Passion For Pinot Noir Summit
February 27, 2010
The 8th Annual Passion for Pinot Noir Summit invites you to experience supple, sexy, velvety, and unforgettable wines.
Pit your palate against the expert panel. Each guest will taste the wines and cast their votes. Scores will be tallied and compared with the findings of our tasting panel. Female and male votes will be recorded separately, gender preferences count.

For the first time ever, we will have entertainment following the awards presentation.

Complete details in August
Cabernet Shootout
Our illustrious panel tasted over 200 "out of this world" Cabernets: Cabernet Sauvignon, Cabernet Franc and Cabernet Blends. The results of the Cabernet Shootout with commentary from the male and female panelists will be posted on the Affairs of the Vine website no later than September 1st.

Social Media Networking
We may be patient when it comes to the development of wine. Grapes need to grow slowly to reach full maturity. Wines must ferment, spend time in tank or bottle and then age in the bottle before we can enjoy their gifts. Information, however, is another story. We want answers now and instant communication is just a fact of life. Check out our electronic world, perhaps while enjoying a wonderful glass of wine.
The Wine Evangelist Blog

Comments and personal views from California Wine Country, Italy and Wine Down Under.
Tweet me at twitter
Let's connect at Linked In
Become a fan of Affairs of the Vine on Facebook
OUR MANTRA...TRUST YOUR OWN PALATE
Read reviews but remember it's your palate that counts. Check out our gender based reviews at www.affairsofthevine.com