Being seduced by Pinot Noir
has never been so irresistible!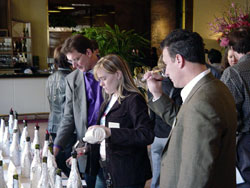 On Sunday, April 5, 2009 consumers, press and trade will gather for the remarkable "7th Annual Passionate about Pinot Noir Summit" at the Osher Marin Jewish Community Center in San Rafael, California. An extraordinary array of palates will gather to assess "the best of the best," from the 7th Annual Pinot Noir Shootout.

The 7th Annual Pinot Noir Shootout included Pinots from around the globe, including Canada, Chile, France, Italy, Australia, and New Zealand. Stateside, California and Oregon dominate the wine submissions; however, Pinots also came in from Idaho, Michigan, and New York.
Unique Aspects of the Pinot Noir Shootout:
The most comprehensive and focused tasting of Pinot Noir in the US, utilizing an incredibly diverse panel of experts.
Just 32 wines are tasted by the experts per day (four flights of eight wines each), allowing the judges to be completely immersed, focused and fair to the wines.
There's no palate fatigue as a factor.
The wines are tasted completely blind without reference to appellation, vintage or price.
Summit will allow the attendees to taste the wines blind and compare their findings to the panel's at The Final Showdown.
The Pinot Noir Shootout is the only competition in which the judges' conclusions are put to the test by an unbiased panel of wine lovers.
The Pinot Noir Shootout continues to explore and assess the reactions and preferences of women versus men, in regards to Pinot Noir. Descriptors and scores of the female and male panelists will be denoted, as well as the reactions of the Pinot Noir Summit attendees, in an attempt to discover whether women and men prefer different wine styles.
Details:
Features:
40 top-rated Pinot Noirs in a blind tasting
Enjoy Pinot Noir Workshops conducted by expert winemakers, viticulturists and wine educators
Pinot Noir Shootout Ceremony
Reception featuring top Pinot Noir winemakers showcasing their wines with specially paired hors d'oeuvre
Meet and taste with top Pinot Noir winemakers
Silent Auction to benefit the ALS/MDA Association in honor of David Jones
Activities:
12:30 PM - 2:45 PM ~ Pinot Noir Shootout - The Final Showdown: Pinot Noir lovers will have the opportunity to taste 40 of the top-rated wines from 7th Annual Pinot Noir Shootout in a blind tasting at the Pinot Noir Summit. Guests will pit their palates against the expert panel. Each attendee will taste the wines and rate their preferences. Scores will be tallied and compared with the findings of our panel.
3:00 PM - 5:00 PM ~ Pinot Noir Workshops
5:00 PM - 7:30 PM ~ Pinot Noir Reception and Awards Ceremony: The final results will be announced at The Pinot Noir Summit at 7:00 PM on April 5, 2009 and the winners will be unveiled during a reception featuring top Pinot winemakers and winery owners showcasing their wines with specially paired hors d'oeuvre.
5:00 PM - 7:30 PM - Silent Auction to benefit the ALS/MDA Association in honor of David Jones
We do not disclose the wines that will be tasted in the blind tasting...that would ruin the fun and the challenge.

Here is a partial list of the wineries that will join us for the Wine Reception. New wineries being added daily.


Fatal error: Uncaught Error: Call to undefined function mysql_connect() in /home/affair6/public_html/includes/php/db_connect.php:3 Stack trace: #0 /home/affair6/public_html/pn_summit_7.php(132): include() #1 {main} thrown in /home/affair6/public_html/includes/php/db_connect.php on line 3