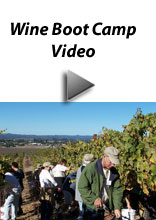 Wine Boot Camp® is the ultimate fantasy experience for wine lovers. An intensive, highly enjoyable one-day training program, Wine Boot Camp® provides the experience and knowledge needed to become totally confident in the understanding and appreciation of fine wine. Business associates and friends will marvel at the leadership of "Camp" graduates as they storm the wine lists of America and the world.
Wine novices and experts experience firsthand the joys and frustrations of winemaking. Wine lovers work hands-on in the vineyard and the cellar under the tutelage of top winemakers and viticulturists.
Wine workshops and tastings of outstanding wines are an integral part of the program.
Conducted by AFFAIRS of the VINE, Wine Boot Camp® is a challenge to the senses, awareness, and understanding of fine wines. Upon completion of basic training, recruits' marksmanship in the field of fine wines will be right on target.
The Ag Traveler: Wine Boot Camp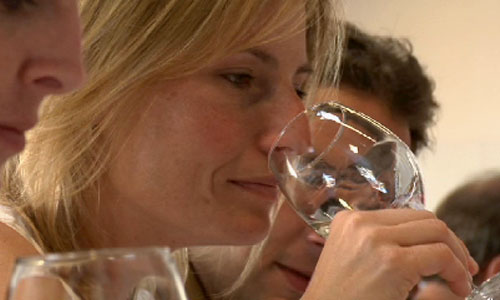 Wine Boot Camp®, an interactive experience can be attended by raw recruits and wine generals alike. This exclusive Affairs of the Vine Program is offered as an open course or can be tailored as a special event or team building experience. Read what some are saying about Wine Boot Camp®

Some of the missions that may be included in the Affairs of the Vine Wine Boot Camp® include:
Aromatic Workshop

Winery and Vineyard Tours

Vineyard Experience-recruits will learn about the vineyard and have an opportunity to some "hands on" work in the vineyard

Varietal Wine Tastings and Workshops

Food and Wine Pairing Workshop

Crack the Secret Code of Wine Lists

Wine Cellar Experience

Wine Blending Experience-become a winemaker and blend your own wine

Appellation Tasting and Workshop
2011 Wine Boot Camp® Mission Sites include the Napa Valley and Sonoma County.

The cost of WINE BOOT CAMP® is $600 per person and includes all seminars and educational materials, working in the vineyard, lunch with wine in the vineyard, dinner paired with appropriate wines, extensive wine tasting, a bottle of wine created by the recruit, transportation to all food and wine events, and an I Survived Wine Boot Camp® T-shirt & cap.


Fatal error: Uncaught Error: Call to undefined function mysql_connect() in /home/affair6/public_html/includes/php/db_connect.php:3 Stack trace: #0 /home/affair6/public_html/bootcamp.php(112): include() #1 {main} thrown in /home/affair6/public_html/includes/php/db_connect.php on line 3