9th Annual
Pinot Noir Shootout & Summit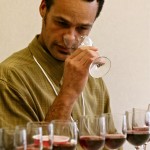 Complete Results of the Pinot Noir Shootout and Summit here
Pinot Noir, the most exciting, confounding, and challenging wine there is has been the focus of the Pinot Noir Shootout and Summit for nine years. We never tire of tasting these wines, enjoying old friends and discovering new ones.

In this, the 9th Annual Pinot Noir Shootout, the Affairs of the Vine professional judging panel tasted 367 Pinot Noirs from all over the globe. The wines we taste continue to delight and fascinate us. The wines seem to get better every year. Are the winemakers making superior wines? We think so!

One of our judges, Rusty Gaffney, The Prince of Pinot, made this observation, "They used to say consistently good Pinot Noir was an oxymoron, but it has become a truism!"

We continue to attract submissions from producers we know a lot about and we're often pleasantly surprised by wines submitted from producers new to us.

The Pinot Noir Shootout is the most comprehensive and focused tasting of Pinot Noir in the U.S. The judging panel, an incredibly diverse panel of 40 wine professionals, tasted 367 wines over a three-month period. Just 32 wines are tasted by the experts per day, allowing the judges to be completely immersed, focused and fair to the wines. Palate fatigue is not a factor in our tastings. The wines are tasted completely blind without reference to appellation, vintage or price. Each wine submitted to the Pinot Noir Shootout was tasted a minimum of twice. The top rated wines were then tasted by our panel of experts at the Pinot Noir Shootout Finals on January 15, 2011. Again, each judge was responsible for tasting, scoring, and analyzing only 32 wines.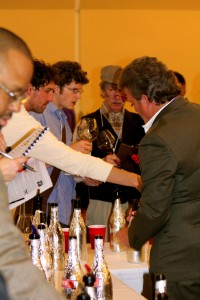 Click on the image to view the Monique Soltani: California Life Pinot Noir Summit Video

Detailed notes accompany the scores of each judge. Gender counts...scores and comments are recorded separately and posted on the Affairs of the Vine website.

The Pinot Noir Shootout is the only wine competition in which the judges' conclusions are put to the test by a large unbiased group of wine lovers. 64 of the top-rated wines were featured at The 9th Annual Pinot Noir Summit on February 26, 2011 at the Hilton San Francisco.

At the Summit, over 350 adventurous Pinot Noir lovers, seeking true splendor in the glass, experienced and evaluated the 64 luscious Pinot Noirs representing the best of the best from this year's Pinot Noir Shootout in a blind tasting at the Pinot Noir Summit.

In a distinctly different format and atmosphere from other wine-tasting events, the attendees blind tasted the wines and pitted their palates against the expert judging panel. The wines were divided into 2 groups of 32 wines each (the White Group and the Purple Group). The Wine Lovers who attended The Pinot Summit voted for their top three wines in order of preference after tasting them blind. The wines were wrapped individually and identified by a random color. The male and female votes were tallied separately.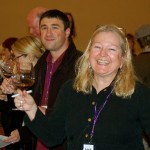 The Pinot Noir lovers spoke out loud and clear at the 9th Annual Pinot Noir Summit. In an unmistakable statement of preference, they embraced wines of elegance and varietal authenticity rather than burly Syrah-like Pinots, the muscular Pinot Noirs made popular by a few influential reviewers and their publications.

The Pinot Noir delegates agreed with the panel…the wines tasted were fantastic! The Summit delegates however, did not rank the wines in the same order.

The Male Pinot Noir Lovers top choice at The Pinot Summit on February 26, 2011 was Bouchaine 2008 Estate Pinot Noir, Napa Valley-Carneros

The Female Pinot Noir Lovers top choice at The Pinot Summit on February 26, 2011 was Steele 2008 Bien Nacido Vineyards Pinot Noir, Santa Barbara County

The Male Wine Lovers first choice was not the same as the Male Judges' panel. The Female Wine Lovers and Female Judges did not select the same wine as their first choice. What does that prove? Who's right? Who wins? Everybody!

9th Annual Pinot Summit Results:

Men at the Summit:
First Place

Turquoise Bouchaine 2008 Estate Vineyard Pinot Noir, Napa Valley – Carneros, $45

Second Place

Tan McIntyre Vineyards Estate 2008 Estate Pinot Noir, Santa Lucia Highlands, $36

Third Place

Lilac DaVine Cellars 2007 Pinot Noir, Santa Cruz Mountains, $28

Fourth Place

Pumpkin Alysian 2007 Estate Floodgate Vineyard Pinot Noir, Russian River Valley, $55

Fifth Place

White Boulder Bank 2009 Pinot Noir, Marlborough, $20

Women at the Summit
First Place

Hot Pink Steele 2008 Bien Nacido Vineyards Pinot Noir, Santa Barbara County, $40

Second Place

Dark Blue Leveroni Vineyards 2009 Seven Oaks Vineyard Pinot Noir, Sonoma Valley, $19.50

Third Place

Khaki Portalupi 2008 Russell Family Ranch Pinot Noir, Paso Robles, $48

Fourth Place

Orchid Sharp Cellars 2007 Keenan's Cove Pinot Noir, Sonoma Coast, $34.99

Fifth Place

Light Blue CRU 2008 Appellation Series Pinot Noir, Santa Maria Valley, $35

Shootout Panel Results:

Men Judges: First Place

Black Chamisal 2008 Estate Pinot Noir San Luis Obispo, Edna Valley, $38

Men Judges: Second Place

Red Lucienne 2007 Lone Oak Vineyard Pinot Noir, Santa Lucia Highlands, $45

Men Judges: Third Place

Burgundy Expression 39 2009 Annahal Vineyard Pinot Noir, Anderson Valley, $48

AND

Pink Woodworth 2008 Estate Pinot Noir, Temecula Valley, $33

Men Judges: Fourth Place

Aqua Marine Fulcrum 2008 Gap's Crown Vineyard Pinot Noir, Sonoma Coast, $54

Men Judges: Fifth Place

Khaki Pacific Coast 2007 Babcock Vineyards Pinot Noir, Santa Rita Hills, $62.50

AND

Hot Pink Steele 2008 Bien Nacido Vineyards Pinot Noir, Santa Barbara County, $40

Women Judges: First Place

Dark Blue Mueller 2008 Emily's Cuvee Pinot Noir, Russian River Valley, $44

Women Judges: Second Place

Turquoise Coghlan 2009 Pinot Noir, Santa Rita Hills, $47

Women Judges: Third Place

Deep Purple Fess Parker 2008 Pinot Noir, Santa Barbara County, $25

Women Judges: Fourth Place

Purple SCV Sonoma Coast Vineyards 2007 Balistreri Family Vineyard Freestone View Block Pinot Noir, Sonoma Coast, $75

Women Judges: Fifth Place

Gunmetal Scheid Vineyards 2007 Reserve Pinot Noir, Monterey, $50

AND

Bronze Sequana Vineyards 2008 Dutton Ranch Pinot Noir, Green Valley, $40

First Place Blanc de Noirs



Cipes Rose
Traditional Method Sparkling Win
e Pinot Noir, Okanagan Valley, BC, $29.95
1500 cases produced



Freixenet Elyssia Brut Pinot Noir, Cava, Spain, $18.00



Gloria Ferrer 2006 Blanc de Noirs,
Methode Champenoise
, Carneros, $40.00
300 cases produced



Gloria Ferrer Brut Rose 2006 Pinot Noir, Carneros, $42.00
2000 cases produced



SCV 2007
Sea Fog Cuvee
Blanc de Noirs,
Methode Champenoise
, Sonoma Coast, $25.00
487 cases produced


Segura Viudas ARIA Brut Pinot Noir, Cava, Spain, $12.00




The wines worthy of note are reviewed here. Each wine is awarded a numerical scores by the male and female panels and are recommended "from the heart with the additional reference of heart's designating the following:
Key:


= Love at First Sip



= An Affair to Remember



= Will Provide Fond Memories

Complete scores and comments by gender here…