The 2007 Chardonnay Shootout
Complete results of the Chardonnay Shootout with comments by gender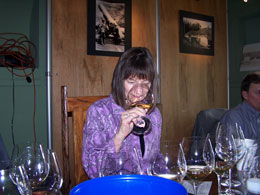 My first introduction to the Chardonnay grape was an amazing experience. In 1972 I attended a retrospective of the white wines produced in Burgundy in the 1960s. Wow! The 1962 Corton-Charlemagnes and Meursaults took my breath away. I was fascinated with everything Chardonnay from France. I started buying up all the white Burgundies and French Chablis that I could afford. The love affair continues today. In the mid 70s I started to explore Chardonnay, California style and then Australia, Chile, Argentina, Italy, Washington State, Canada and...
Chardonnay is the number one selling white wine in the U.S. So why has it been so long since we've had a Chardonnay Shootout? Logistics, mostly...finding strong panelists who want to focus on Chardonnay is not as easy as finding lovers of Pinot Noir, Cabernet Sauvignon and Zinfandel. But we were able to pull together a stellar panel and we have their opinions for you. Click here to see the full results
Chardonnay can display a full range of aromas and flavors - apple, pear, tropical fruit, citrus and melon, buttery notes (smelling like buttered popcorn), oak overtones, and spices that will leave a lasting impression on you and your palate.
Chardonnay is also delicate and flexible. It can be fashioned to fit the style that the winemaker wishes. The nature of Chardonnay allows it to be easily influenced and can be dramatically affected by vinification, appellation and vineyard techniques. Too much oak and the oak can override the fruit. A small amount of another varietal added and it can dominate the blend.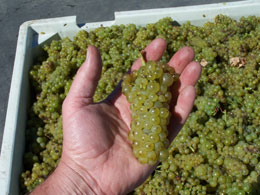 The natural aromas and flavors of Chardonnay may be unfamiliar to many wine drinkers. The true character is often masked by winemaking decisions. The primary fruit characteristics of Chardonnay are display crisp fruitiness of apples, pears, and lemon, but this full-bodied varietal can support many complementary characteristics, such as oak, butter, and vanilla. In an effort to reproduce the great whites of Burgundy, Chardonnay has often been subjected to excessive oak fermentation and/or aging, sur lees, and malolactic fermentation. With too much manipulation, Chardonnay can lose its varietal and regional identity.
Our panelists tasted over 160 Chardonnays, never more than 32 wines in a day (four flights of eight wines) that way we could concentrate on the wines and write intelligently and analytically about them. We have chosen not to share our comments on those that we found to be peculiar or unpleasant.
Interesting about this exercise was the diverse impressions we got on many of the wines – not necessarily differences in the quality of the wines but in the wide range of perceptions of the aromas, flavors and ultimate delivery of the wines. I believe that the aromas and flavors in white wines are often more difficult to identify than those in red wines but our mantra holds true ...Trust Your Own Palate. If you like the way it looks, and you like the way it smells and you like the way it tastes...it's good wine!
.
The process and manner utilized by Affairs of the Vine for assessing and judging entries is unique within competitions in that it employs the following procedures:
All wines are tasted blind. (How could you ever do it differently?)
All wines are tasted without reference to producer, appellation or price.
Each wine is judged and reviewed on its own merit.
A maximum of 32 wines is tasted per day – four flights of eight wines each. We have arrived at this formula and find that in this format, each wine can be tasted with clarity and concentration without palate fatigue.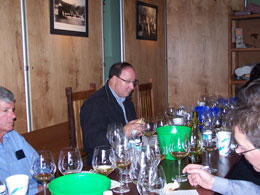 The wines are rated using a 100 point scale. Copious notes are required and the notes and the ratings must have continuity or the scores are not recorded.
Although we would prefer not to use a point system to rate the wines, we have not come up with an alternative method that allows us to select the top wines that are tasted by our final panel and those tasted at the Pinot Noir Summit.
For the Chardonnay Shootout, The wines were placed into flights and evaluated by teams of judges over a period of a month. The top 64 wines selected were then submitted to two final tasting panels for review. Each panel tasted only 32 wines.

The wines worthy of note are reviewed here. They each get a numerical score and are recommended "from the heart with the additional reference of

's designating the following:

Key:




= Love at First Sip




= An Affair to Remember



= Will Provide Fond Memories
Click here for the complete results of the Chardonnay Shootout
Hopefully, you have a retailer at can help to guide you. Let the wine shop know the Chardonnays you have enjoyed and the ones at have been less to your liking. A good retailer can help you make appropriate selections for your palate.
If you have difficulty finding any of these wines at your local retailer, feel free to email Affairs of the Vine. We will be happy to put you in touch with someone at the winery who can help you acquire the wines that entice you.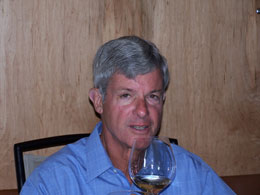 Read reviews but remember it's your palate that counts. Try to find a wine critic who recommends wines at you like. Don't feel that you have to like the wines at wine critics praise. Don't be intimidated! If a movie reviewer gives 5 stars to a film, do you feel at you're unsophisticated if you don't like it too? Wine is no different. Personal preference is what counts. So drink and enjoy what you like. At Affairs of the Vine we say, "If you like the way it looks and you like the way it smells and you like the way it tastes...its good wine. So use our recommendations as a guide but you are the authority of what provides "Love at First Sip" for you.
If you see anything in these results which you think is of interest or noteworthy, we would love to hear from you and we will put as many comments up on our website as possible. And remember, trust your own palate. It's the only one at matters.
The wines range in price from $8.99 to $60.00 per bottle.
Check out the "Bang for Your Buck Chardonnays" wines which were awarded



or more hearts and sell for under $18.
Begin an Affair with these great wines tonight!