Food & Wine Pairing Workshop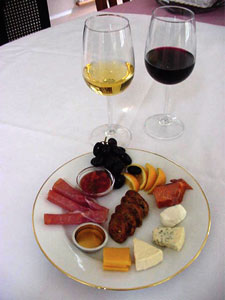 Affairs of the Vine educators will present a Food & Wine Pairing Adventure for your guests.
The educators will discuss and demonstrate the secrets in selecting the perfect wines to complement the flavors of a meal. The flavors so prevalent in today's restaurants featuring fusion and ethnic cuisine present a unique challenge in selecting wines.
The experience will be interactive and concentrate on California varietal wines. In this workshop, your guests will taste a minimum of six different wines in the company of a variety of flavors and textures. The attendees will be presented the challenge of tasting and describing what happens to wines as they are paired with different food components. Your guests will discover which wines complement the flavors in food and why.
This workshop will enable your guests to develop the ability to taste the differences in wine and apply them to food pairing experiences.
For information, contact:
Barbara Drady
707-874-1975
bdrady@AffairsoftheVine.com